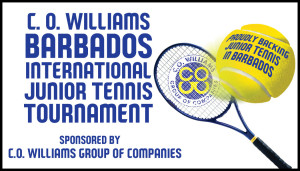 UPDATE Thursday April 4, 2019 – see links to U14s Final results
Dear Juniors/Parents.Coaches
Thank you for registering for the upcoming COTECC U14s junior tournament.
The C.O. Williams Barbados International Junior Tennis Tournament 2019 will be held at the Barbados Yacht Club from Saturday March 30 – Thursday April 4, 2019.
Sign-in for ALL Under 14s is on Friday March 29, 2019 between 4.00 pm and 6.00 pm at the BARBADOS YACHT CLUB, BAY STREET, ST MICHAEL.
See Sign-In procedures at following link – 2019 U14s Sign In.
The U14s Acceptance List can also be found at following link – 2019 BAR U14s Acceptance List
Do let us know if you have any questions.