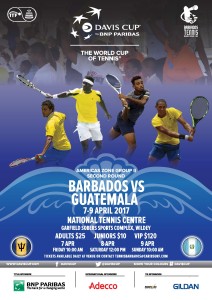 Update April 9, 2017 – BARBADOS win 3-2 vs Guatemala – next up VENEZUELA at HOME again September 15-17, 2017 – we do need you to Come Show your Colours!
See Nation News
Update April 8, 2017 – Darian and Haydn win the Doubles – come out to support Team Barbados Sunday at 10.am for the reverse singles.
Update April 7, 2017 – tie even after first day! Next up doubles starting at Noon on Saturday.
UPDATE April 6, 2017 – DAVIS CUP starts tomorrow – see
Follow Scores at Live Scores
Come Show Your Colours!
Support TEAM BARBADOS against GUATEMALA in 2017 Davis Cup by BNP Paribas Americas Zone Group II second round action at the National Tennis Centre on Friday April 7 at 10 am, Saturday April 8 at noon and Sunday April 9 at 10 am.
TICKET INFO:
General Admission – Bds$25, Juniors Bds$10 – daily (FRIDAY is KIDS DAY so all kids accompanied by an adult will be admitted free)
Limited VIP seating in the Club House (with hospitality) – Bds$120 daily
General Admission Tickets will be on sale at the gate on match days.
VIP tickets can be purchased in advance by contacting the Association at tennisbarbados@caribsurf.com
The match schedule is as follows – note start times:
Friday April 7, 2017 – 10 am – 2 singles
Saturday April 8, 2017 – noon – 1 doubles
Sunday April 9, 2017 – 10 am – 2 reverse singles
Come Show Your Colours and support Team Barbados!