REMINDER – do come out to support and have fun this Sunday December 2, 2018 at the National Tennis Centre.
Dear Tennis Family,
We are dedicated to repairing and rebuilding relationships and re-establishing the family culture of the National Tennis Centre – reminding everyone of the fun in tennis!
With this in mind, we are pleased to advise that on December 2 2018 (between 1 and 6 pm) we will be hosting an Independence Fundraising Fun Day for children in tennis in Barbados. Bring your family and friends and come to the National Tennis Centre for Tennis Competitions, Games, Food, Prizes, Surprises and lots of FUN!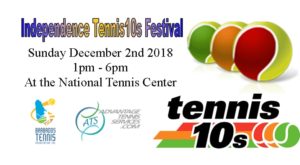 Among other things you will have the opportunity to watch the Independence Tennis10s Festival , coordinated by ATS – as our up and coming Tennis10s players battle on the red ball, orange ball and green ball courts!
Please come out and support, and let us continue to work together to develop and promote tennis in Barbados for all .
We look forward to seeing you there!
Barbados Tennis Association Inc.