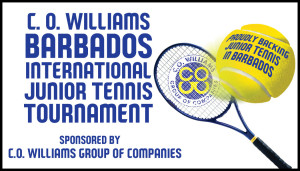 UPDATE April 5, 2018 – see Final U14s main draws and round robin results at following links:
Congratulations to all winners and runners-up and thanks for coming out – we enjoyed having you all!
See lots of photos on our Facebook page
UPDATE MARCH 29, 2018
REMINDER –
The U14s sign in is between 4-6pm at the Barbados Yacht Club tomorrow FRIDAY MARCH 30, 2018 – bring your entry fees B$100, ID and any outstanding BTA membership fees.
Practice Courts are available between 2-4pm
Players' party will also take place between 4-6pm.
See you tomorrow.
UPDATE MARCH 22, 2018 –
This year our C. O. Williams Barbados International Junior tournament will take place in two parts:
COTECC U14s – week of

April 2

, 2018 at Barbados Yacht Club
ITF U18s – week of

April 16

, 2018 at National Tennis Centre
The U14s Acceptance list has now been published – see U14s Acceptance List
Also see link to U14s Fact Sheet
Further information will be circulated re Sign-In procedures in due course.
U18s entries can now be made online using your IPIN account
See U18s Fact Sheet
U18s entry deadline is

March 20

, 2018 at 10.00am Barbados time
New U18 players will need to register using the IPIN link – let us know if you have any problems.
Tournament entry fee for each event is US$50 or Bds$100 (payable at Sign-In).
Local players should also ensure that their 2018 Barbados Tennis Association subscriptions have been paid prior to start of the tournament – 2018 fees – $25.
Hope to see you!