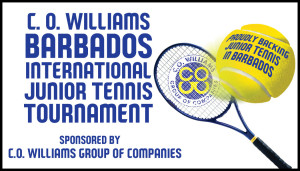 Dear Junior Players, Parents and Coaches
This year our C. O. Williams Barbados International Junior tournament will again be split in two parts:
1. COTECC U14 – week of April 1, 2019 at Barbados Yacht Club (Round Robins start on Saturday March 30, 2019)
2. ITF U18 – week of April 15, 2019 at National Tennis Centre (Qualifiers start on Saturday April 13, 2019)
1. COTECC U14s
See link to
U14s Fact Sheet
. We encourage you to enter this event if you are between the ages of 11 to 14.
Entry deadline is on March 5, 2019.
2, ITF U18s entries can now be made online using your IPIN account – see link to IPIN
The U18s Fact Sheet can also be found at the following link – U18s Fact Sheet
U18s entry deadline is March 19, 2019 at 10.00am Barbados time
New U18 players will need to register using the IPIN link.