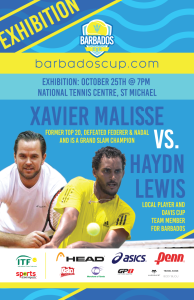 Tennis Fans – come out to the National Tennis Centre on Thursday October 25, 2018 at 7pm to watch Barbados Davis Cup star HAYDN LEWIS take on former top 20 player XAVIER MALISSE from Belgium in a three set Exhibition Match.
This exciting match-up forms part of the 2018 Barbados Cup ITF Junior tournament festivities. The event for U18 year olds started today and has attracted many local, regional and international juniors. Play resumes tomorrow with the second round of qualifying and continues throughout next week from 9am daily at the National Tennis Centre.
Entry is free and Food and Beverages will be on sale.
A free clinic for U12 and U10 year olds will also take place prior to the Exhibition on October 25 at 6pm, so all youngsters are welcome to come along.
See you at the National Tennis Centre!