Boys U18s Singles Winner and Runner-Up
Boys U18s Doubles Winners and Runners-Up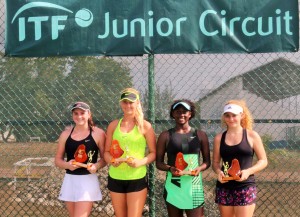 Girls U18s Doubles Winners and Runners-up
U14s Winners and Runners-up
Update April 15, 2017 –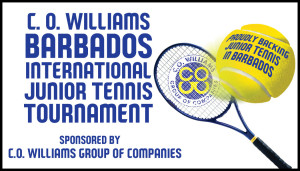 See following links to final draws –
Under 18s –
Under 14s –
Update April 6, 2017 –
Coaches/Players
Pls note below revised SIGN-IN information for the Under 18 qualifying and Under 14 events –
Under 18 Qualifying Sign-in is on

Friday April 7

 between 4.00 pm and 6.00 pm
Sign-in will take place at the BARBADOS YACHT CLUB, BAY STREET, ST MICHAEL
Sign-in for ALL Under 14s is on

Friday April 7

between 4.00 pm and 6.00 pm
Sign-in will take place at the BARBADOS YACHT CLUB, BAY STREET, ST MICHAEL
See the full Sign-In procedures including information for Main Draw players –  Sign In Procedures
Please read carefully and let us know if you have any queries as soon as possible.
Many thanks.
Marie-Jeanne Symmonds – BTA Tournament Director – cell 1-246-231-4992
C.O. Williams Barbados International Junior Tournament
Update April 1, 2017 – New Sponsor – C.O.Williams Group of Companies
March 22, 2017
Acceptance Lists are now out for both U18s and U14s
This year's Barbados Junior International (ITF) tournament runs from April 10-15, 2017 with the U18 qualifying and U14 round robin events starting on Saturday, April 8, 2017.
U18 Entries close on Tuesday March 14, 2017 at 10.00 am Barbados time.
Under 18 entries are to be made online through Player's IPIN account and fees are to be paid at the official Sign In. (more info will be circulated later)
See link to U18s Fact Sheet
Under 14 entry requests should be e-mailed to mjsymmonds@gmail.com by Monday March 20, 2017.
Note -The minimum age required to participate in the U14 COTECC Circuit tournaments is to be 11 years old on the day that the U14 tournament begins. In addition, the maximum age is to turn 14 during the year of competition. Players who can compete must therefore be born between January 1, 2003 and December 31, 2006.
See link to revised U14s Fact Sheet
Tournament entry fees for both events are US$50 or Bds$100.
Local players should also ensure that their 2017 Barbados Tennis Association subscriptions have been paid prior to start of the tournament – 2017 fees – $25.
Hope to see you here!
Thanks