We have designed a new exciting and effective tennis program for players of every ability between the ages of 4 – 15 years old with an opportunity to participate 3 times a week and more!
The new term starts at the National Tennis Centre on Monday September 9, 2019 with sign up at 3pm.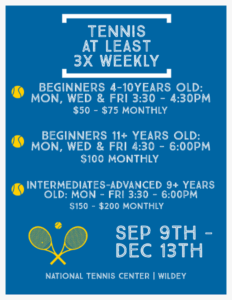 A highly qualified and experienced team has been assembled to carry out new our mission.
Technical Director: Damien Applewhaite
Head Coach: Julian Baird
Assistant Coach: Christian Maxwell.
ITF Certified coaches
Contact the Tennis Centre Office tel #427-5300 for more information.