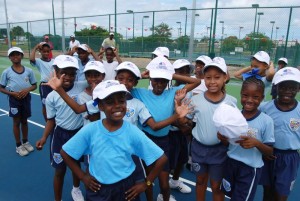 Thanks to the United States Embassy Bridgetown for continuing it's assistance with the Schools tennis programme for 2012-13.
Under the direction of coach Julian Baird and Assistant Secretary of the Association Mrs Margot Thomson a mini tennis exhibition tournament was held at the National Tennis Centre, Wildey for 60 students from the Luther Thorne, Blackman Gollop and Grantley Prescod Primary schools last Thursday.
The seven and eight-year-olds are regular participants in weekly 90 minute mini tennis coaching sessions which the Embassy has been supporting since 2011 in collaboration with the Association, the Barbados Olympic Association and the National Sports Council.
At the official launch, US Ambassador to Barbados and the Eastern Caribbean Mr. Larry Palmer told the students that once they practiced regularly and played to the best of their abilities, there was no reason they could not be the next big tennis superstar.
"I am so excited because today I get to see you play and I get to see Barbados' future tennis stars," Palmer said. "If you listen to your coaches and you practice and you play hard, then you too, can become just as good and just as famous as Serena Williams, Venus Williams, Pete Sampras, Andy Murray or Rafael Nadal."
He also told them that tennis would provide valuable exercise which was important for them at their young ages.
See YOUTUBE clip (courtesy of the Bajan Reporter) at
US EMBASSY Jnr Tennis Programme
and further photos at
US EMBASSY Jnr Tennis Programme photos