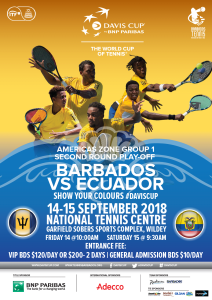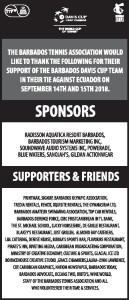 September 22, 2018 – Thanks to all Sponsors, Friends and Fans who supported the Barbados Davis Cup team during the tie against Ecuador.
September 15, 2018 – Bad luck lads – Barbados go down 4-0 against Ecuador so return to Group II in 2019.
September 14, 2018 – Ecuador lead Barbados 2-0 after the first two singles matches. Come out tomorrow to shout for Darian and Haydn in the very important doubles match starting at 9.30am.
September 7, 2018
Dear Tennis Fans – it is Davis Cup time again!
Do Come Show Your Colours to Support the RADISSON BARBADOS DAVIS CUP TEAM against ECUADOR in 2018 Davis Cup by BNP Paribas – Americas Zone Group I Second Round Play Off action on Friday September 14 and Saturday September 15, 2018 at the National Tennis Centre. Garfield Sobers Sports Complex, Wildey, St Michael.
This highly important tie will again feature the two-day format and best-of-three-set matches trialled at Davis Cup by BNP Paribas ties earlier in 2018 and the winner of this tie will remain in Group I for 2019.
Also see Tie Preview
TICKET INFO:
General Admission – Bds$10
Limited VIP seating in the Club House (with hospitality) – Bds$120 daily or BdS$200 for the Two Day package.
Our Marketing Team (contact Grace Chambers at gracecha210@gmail.com ) will be selling General Admission Tickets in advance or they can be purchased at the gate on match days.
VIP tickets can be purchased in advance by contacting the Association at tennisbarbados@caribsurf.com
The match schedule is as follows
Friday September 14, 2018 – start time 10.00 am – 2 singles
Saturday Saturday 15, 2018 – start time 9.30 am – 1 doubles and 2 reverse singles
Come Show Your Colours and support the Radisson Barbados Davis Cup Team
See you there!