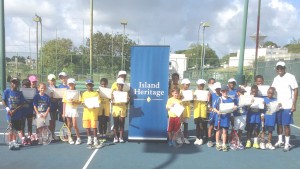 The National Tennis Center was bustling with activity last weekend as the Island Heritage Tennis10s competition saw scores of young tennis stars from 5 clubs come together to compete in 5 teams within 3 categories.
Congratulations to team Blackbird who won the team competition accumulating 26 points.
The Tennis 10s is an ITF initiative that introduces young juniors to tennis using low compression balls that encourage rallies.
Lance Castange-Clemont played undefeated in the Green ball competition. He delivered on important points in crucial matches to win all his matches and this division. In a close fought match Lance defeated Javonte Blackett 10-9 in the final sudden death point to ensure victory. The final match saw Lance come up against Aaron Jones and neither had lost a match at that point. The determined Lance defeated the athletic Aaron 10-6 in the deciding match.
The orange ball competition played on three quarters of a court was very competitive and the players were divided into 2 groups with 8 players qualifying for the knockout stage. Christian Gosselin defeated Jamie Hudson 10-3 in one semi, while Justin Atkins defeated Adam King 10-7 in the other. Gosselin, following in the footsteps of his older brother Lukas, went on to win the final 10-4.
The Red ball competition, which targets beginners 9 and under, uses a half court with a special purpose net. Neil King played undefeated in this group with Mikah Morgan as runner up and Zahria Trotman winning the girls.
Final results of the team competition:
Blackbirds 26
Mongoose 24
Bajan Pride 18
Green Monkey 17
Flying Fish 11
Action continues this week at the National Tennis Center in the Peter Patterson/Powerade Junior tournament.