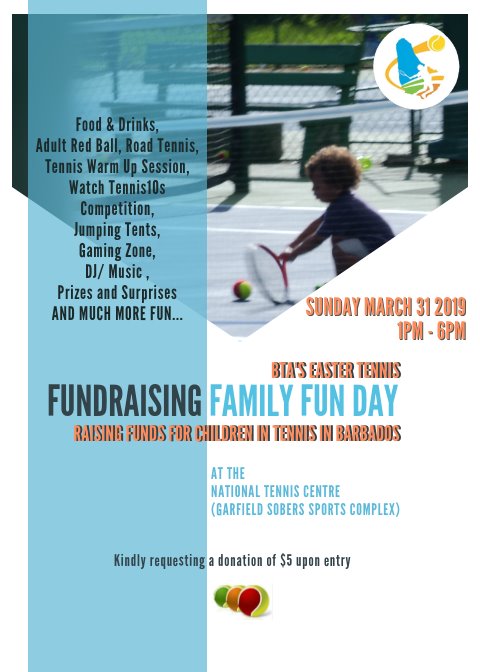 Update March 31, 2019 – thanks to all for coming out to support and making it a great Fun day!
UPDATE March 24, 2019 – only 7 days to go to Fun Day – do come out to the Tennis Centre on Sunday March 31, 2019 between 1 and 6pm to have Tennis Fun!
Hi Members and Friends,
Please save the date – Sunday March 31 2019 between 1 and 6pm – the date of the BTA's Easter Tennis Fundraising Family Fun Day, being held at the National Tennis Centre (Garfield Sobers Sports Complex).
In the interim, here are some things to note:
We are having Food & Drinks, DJ/Music, Gaming Zone, Adult Red Ball Competition, Road Tennis, Prizes & Surprises, FUN, FUN, FUN and lots of more!!

You do not need to know how to play tennis – you just need to know how to have FUN – so tell all of your family and friends.

We welcome everyone!! All BTA members, family & friends of tennis, and all participants, parents, coaches and officials of the C. O. Williams Barbados International Junior tournament – COTECC U14 being held earlier that day.

We need each of you, our FULL TENNIS TEAM, to support – Tennis10s, 12 and unders, 14 and unders, 16 and unders, 18 and unders, and all our Seniors.
Please bring your racquets, come have fun and help us to support the children and to increase the standard of tennis in Barbados!
Look out for more on this very soon…