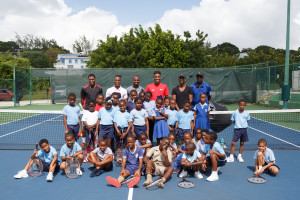 The official launch of Sol's Partnership with the Barbados Tennis Association took place in February 2015 and the children from Blackman and Gollop, Grantley Prescod Memorial and Luther Thorne Primary Schools have enjoyed their weekly sessions held at the Barbados National Tennis Centre ever since.
Now in its third year, the Junior program is designed to introduce tennis to kids at a very young age so as to pique their interest in the sport from early.
Participating students between the ages of 7-11 have benefitted from taking these weekly sessions with highly qualified, certified, coaches Julian Baird, Kandia Shorey and more recently Christian Maxwell. Approximately 25 children attend from each of these three schools.
Once a year we have a fun competition among the schools so the children can come together to compete and interact.
This year we had a MAGICAL MORNING because our famous Darian King and our other Davis Cuppers Chris King and Seanon Williams came along to surprise and then assist the children with their new skills. It was a marvelous grand slam for all of us to see our three young men supporting, really "giving back" to our community-driven tennis project.
The morning ended with red and green balloons soaring into the air and children running everywhere to try and hit them with their racquets. This was such a memorable experience to celebrate the joyous Xmas season and inspire the children to continue loving tennis.
We are indeed very grateful that through Sol's Involvement we have been able to carry on with the program.
See link to all photos of last Friday's competition – SOL FUN DAY