2020 is here and tennis is in the air!
Keep track of tennis via the BTA's 2020 Calendar of Events , first released on January 2 2020. Also remember to monitor the COTECC 2020 Calendar for a wider selection of regional ITF tournaments.
Following is just a taste of what is happening over the next few weeks :
(1) Good Time Snacks, a BTA sanctioned tournament, is presently being held at the Ocean View Club.
(2) The BTA's JTI Programme resumes on Tuesday January 7 2020.
(3) WJTC Prequalifying Events (U14) commence during the weeks of January 13th (boys) and January 20th (girls) respectively in Dominican Republic.
(4) The BTA's Annual Inter-Club Tennis Competition starts on January 25 2020.
(5) Junior Davis Cup & Junior Fed Cup Prequalifying Events (U16) commence during the weeks of February 3rd (boys) and February 10th (girls) respectively in El Salvador

…and much more tennis thereafter.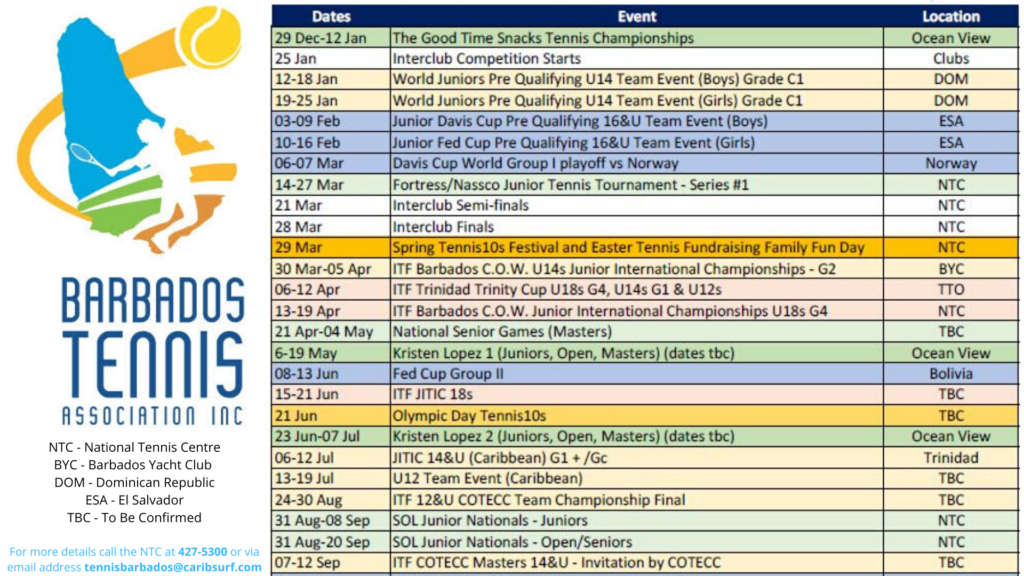 Regards
Barbados Tennis Association
www.tennisbarbados.org
www.facebook.com/tennisbarbados