The 2020 Inter-club Competition is sponsored by WINDWARD AGENCIES / CARIBCONEX (Click here for the Tournament Rules)
Tournament postponed. Click here for details.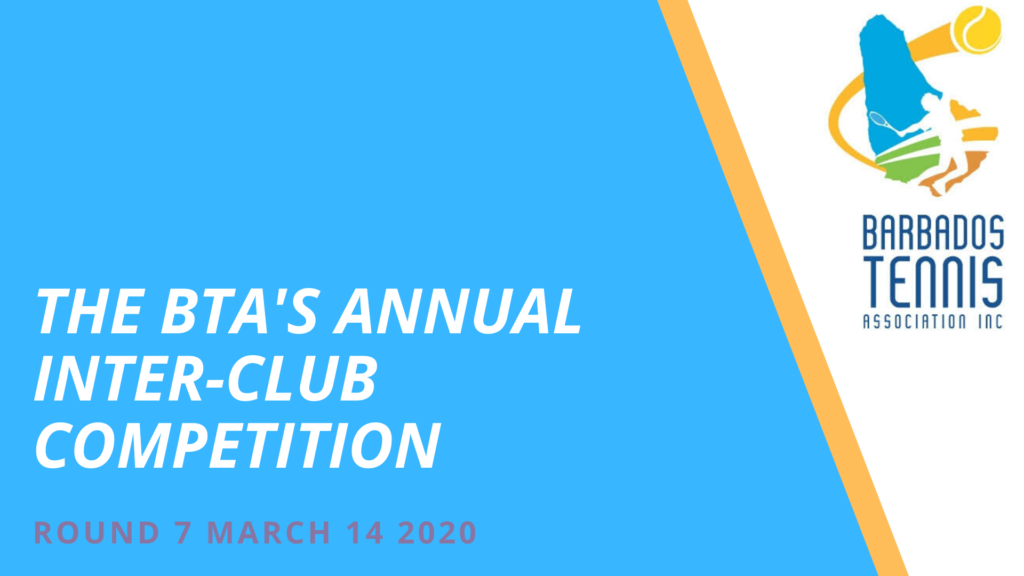 Following is the tournament schedule (or click here for the pdf version of the same). For more background on this competition see the Clubs page.
DATE
ROUND
HOME
AWAY
RESULTS
Jan 25
1
Ocean View
UWI
Windward
Paragon
Tennis Centre
Summerhayes
Yacht Club
BYE
After Round 1
Feb 1
2
Yacht Club
UWI
Ocean View
Windward
Tennis Centre
Paragon
Summerhayes
BYE
After Round 2
Feb 8
3
Tennis Centre
Paragon
Summerhayes
Ocean View
UWI
Windward
Yacht Club
BYE
After Round 3
Feb 15
4
Summerhayes
UWI
Paragon
Yacht Club
Tennis Centre
Windward
Ocean View
BYE
After Round 4
Feb 22
5
Tennis Centre
Paragon
Ocean View
Summerhayes
Windward
Yacht Club
UWI
BYE
After Round 5
Feb 29
6
Windward
Yacht Club
Tennis Centre
UWI
Summerhayes
Ocean View
Paragon
BYE
After Round 6
Mar 14
7
Summerhayes
Yacht Club
Windward
Tennis Centre
Paragon
UWI
Ocean View
BYE
After Round 7
July 18
SEMIS
Ocean View
Windward
Yacht Club
Paragon
5 – 2 (Game Score)
Windward (by Default)
Aug 23
FINAL
(rescheduled)
Windward
Ocean View
.
Do you want to keep track of the latest posts in this tournament?