The BTA is pleased to invite you to our latest webinar entitled "Busting The Myths of Tennis Psychology", featuring Adam Blicher. 
Adam Blicher is a Sports Psychology Consultant who is part of the External Team of Sport Psychology Consultants at Team Denmark. He works with everyone from the local club hero to athletes competing at European/World Championships and the Olympics. He hosts a Tennis Coaching Podcast called "Dissecting High Performance in Tennis" where 70+ Tennis Experts have shared their experience and knowledge. It is the highest rated Tennis Coaching Podcast on iTunes. 
Please join us on Saturday, May 9th at 1pm.
To RSVP contact Andrew Thornton at 252-2351 or athornton15@hotmail.com to receive the Zoom Code.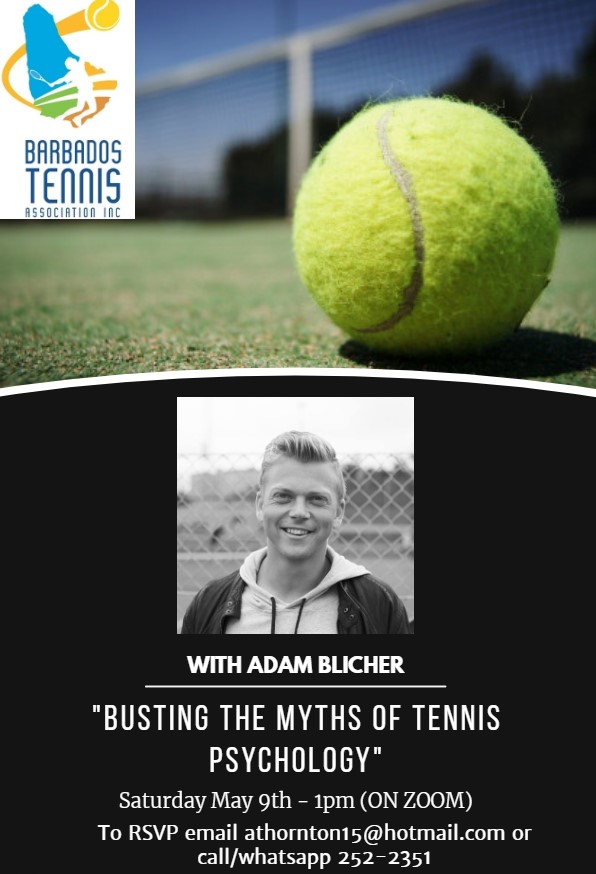 Hope to see you all there!
Regards
Barbados Tennis Association
www.tennisbarbados.org
www.facebook.com/tennisbarbados
Do you want to see more posts related to seminars?